Associate of Arts and Science Annual Report 2022


This is the 10th year for Gallatin College's Associate of Arts and Science degree programs. Thank you to our MSU colleagues, area schools, and greater community for your support as we offer Core and general education courses in small class sizes, taught by dedicated, student-oriented instructors.
Enrollment
In Fall 2022, there were 202 students enrolled in the general education degree programs: 126 (62%) enrolled in Associate of Science and 76 (38%) enrolled in Associate of Arts. Gallatin College has had around 200 students enrolled in these general education degree programs for the past five years—it is the approximate number that the college seems able to attract and enroll given our current building restrictions and course offering schedule.
Because Gallatin College's mission is to provide a comprehensive, accessible, responsive, student-centered learning environment that facilitates and supports the achievement of individuals' professional and personal goals, looking closely at who we serve and how we support them, has been a central goal for the college as well as the Associate of Arts/Science department.

Student Demographics
In Fall 2022, 115 students (57%) were part-time and 87 students (43%) were enrolled full time. A majority of the students (67.8%) are traditional college age and, with a few exceptions, all students live in the community (Gallatin College does not offer residential options for AA/AS students). Of the students that enrolled in the AA/AS programs at Gallatin College, 19% were Pell Grant recipients, as compared with 14.2% at MSU.
Gallatin College is serving a larger under-represented minority population than is found in Gallatin County in our Associate of Arts/Science degree programs. In the graph below, blue represents percent of our Gallatin College student population and yellow represents the percent of the Gallatin County population.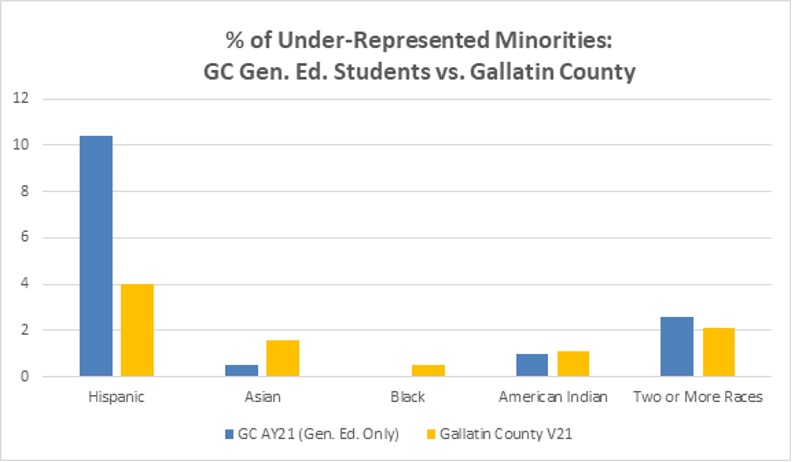 Source: MSU OPA & Gallatin County Census data (2020-21)
Pathways
Associate of Arts and Science students follow one of three typical pathways through the degree. These common pathways are:
Prepare—student has a clear academic goal and is completing pre-requisite courses for their eventual college major (50% of AA/AS students)
Train—student's goal is to complete an Associate's degree and enter the workforce, so we encourage them to take elective classes to develop applied workforce skills (30% of AA/AS students)
Explore—student is exploring majors and career options, but undecided about their goal (20% of AA/AS students)

Transfer
In the 2021 academic year, 42 students transferred to MSU from the Gallatin College Associate of Arts/Science program. Of those students, 30 transferred to MSU prior to completing a GC degree and 12 completed a GC degree before transferring to MSU. In that same academic year, there are 20 students who transferred from MSU to Gallatin College's Associate of Arts/Science degree program.
The most popular MSU majors for AA/AS transfer students are University Studies, Pre-Business, Liberal Studies, Psychology, Pre-Nursing, Computer Science, and Biological Sciences.

Graduation
AA and AS students continue to be one of Gallatin College's largest graduating degree groups, despite many students being part time. There were 58 AA/AS graduates in the 2021-22 academic year, with 60 graduates being typical from year to year. This slight drop is likely attributed to lingering effects of the Covid pandemic years.
One factor that contributes significantly to AA and AS graduation numbers is the amount of MSU students who "reverse transfer" from MSU to Gallatin College. In many instances, MSU students who wish to leave the university (for various reasons) have met all, or close to all, of the requirements for the AA or AS degree already. These students can simply "transfer" to Gallatin College, change their major, and fill out a graduation application. This is increasingly popular, as more advisors across MSU and our Return to Learn partners in Allen Yarnell Center for Student Success (AYCSS) have helped students pursue this option before leaving or stopping out of the university. Students who plan to leave the university are generally excited about having a degree to show for the college work they have completed. This seems especially true if they can take courses online so they can move forward with other plans.
It's also worth noting that Gallatin College advises students to transfer to MSU (or another Bachelor's degree university) at the time that makes the most sense for them (whether they complete an AA or AS or not). We also advise and encourage students to consider pursuing the MUS transfer scholarship opportunity, which requires that students complete their Associate degree before transferring to their Bachelor's degree.

Goals and Strategic Directions for the coming year
Degree options
Fully online Associate of Arts and Associate of Science options—we offer enough online courses at this point to complete the degree online, and will start marketing this option
Identify and develop 2+2 degree options so that more students can complete the Associate's degree before transfer to MSU
Faculty
Currently Gallatin College AA/AS program operates with one Humanities full-time faculty and 30 part-time faculty. We'd like to develop more full-time faculty positions.
New tenure-track/full-time faculty hires that would be beneficial include:

Joint Bio-science/Allied Health full-time faculty hire
Joint Photonics/physical science full-time faculty hire
Student Services and Retention
Partner with MSU Return-to-Learn and the Office of the Registrar on reverse transfer students
Establish a transfer scholarship to MSU (on the receiving MSU side)
One cohesive campus location for all AA/AS in-person classes
Recruiting and Enrollment Growth
Educate the community on the benefit of AA/AS degrees (e.g., some states require starting at a community college for purposes of academic and career exploration)