Fulfilling Potential
Gallatin College MSU 2022 Annual Report
A Letter from the Dean

Reflecting on the past year has revealed that Gallatin College MSU has much to be proud of
as well as countless individuals and organizations to whom we owe our deepest gratitude. Together, our students, faculty, staff and industry partners continue to meet workforce demand, deliver affordable transfer education, build confidence for academic excellence in math and writing, and provide college pathways through dual enrollment courses.
Because of students, community members, and generous partners such as Gallatin County and Bridger Aerospace, our workforce and Associate of Arts and Science enrollment continues to flourish. Our newest programs, including HVAC-R, Carpentry, Healthcare Administrative Professional, Aviation Electronics Technology, IT Networking and Cyber Security, have received overwhelmingly positive response. This brings our offerings up to 23 unique programs!
Looking forward, we have many new and exciting opportunities. Gallatin College will continue to focus on securing public and private funding to build a combined Career, Technical and Trades facility for our students, faculty and community. Technology continues to change occupations and skills requirements daily. We must be prepared to adapt to these ever-changing workforce needs. Recently, Gallatin College, Belgrade and Bozeman School Districts established an Educational Workforce Advisory Committee intended to show high school students and their parents the opportunities in technical and trades occupations and strengthen pathways to technical training.
As we count our many blessings, living and working in Gallatin and surrounding counties, we also recognize some of our neighbors have struggles. For this reason, Gallatin College recently established a "Fulfilling Potential" scholarship for local students that have worked with the HRDC, Haven, Love INC., and Family Promise. If you are fortunate enough, and in the position to give, our goal is to build an endowment and provide 1-4 scholarships a year to individuals striving to improve their lives. Please reach out to me if you are interested in this scholarship project.
Our success as a college relies on internal and external relationship building. Only by working together can we empower individuals on their journey toward fulfilling their potential and strengthening our community. Thank you for being a part of this important journey!
Happy holidays and greatest gratitude,
Stephanie Gray
Dean, Gallatin College MSU
Student Success
"Hit the Ground Running"


Supporting Students with Children

Programs with Promise

"The White Sulphur Springs native prefers hands-on work and days that don't all look the same. Lucky for [Christian] Nielsen, he found just the career — and training — he needs. Nielsen is a student in the inaugural group of Gallatin College MSU's HVAC-R program.

[Nielsen] said the applied associates degree and experience from the hands-on education at Gallatin College will give him a chance to graduate with skills he can immediately use in the industry. Nielsen said he's grateful to have marketable skills without paying a small fortune to acquire them."

Read more in the May 2022 Mountains and Minds article about how Gallatin College successfully prepares students to enter the workforce.

Through MSU Giving Day community donations and a Gallatin County ARPA grant, childcare stipends were made available to students with children.

One student stated, "I have a young nine-month-old son and a five-year-old daughter who I need to support… having a degree not only opens up doors for myself, but for my family! I am especially grateful to donors who give us [parents] a chance at improving our families' lives!"

Childcare stipends allow students who are parents to have dependable care, attend class and focus on their studies.

New HVAC certificate and degree programs began in Fall 2021 with seven students working toward careers as installers and technicians.

Soon after, in November 2021, the college received a $2 million ARPA grant from Gallatin County to create even more economy-enhancing programs to help rebuild the local workforce and strengthen community resources. Planning began immediately on new Carpentry and Healthcare Administrative Professional programs alongside planning for the expansion of Welding and Manufacturing programs.

Additional program development work included IT Network Technology and IT Cybersecurity 2-year associates degree options and an Aviation Electronics Technology associates degree made possible by Bridger Aerospace.

View our full list of programs here.
"I was able to balance a mostly full workload...and still go to school."
- Jacob Martin, Drafting and CAD Technology

"I've been able to succeed...because from day one, everything is interactive."
- Ivy Philips, CNC Machining Technology
Community Connections
Job Site Ready

The Race to Plate

Women in Technology

In support of our region's building industry, Gallatin College created two new creative training programs.

In partnership with other Montana University System two-year colleges, Gallatin College offered three Job Site Ready hands-on training labs, alongside online learning modules. Trainings began in Spring 2021 to prepare participants aged 16+ for entry-level jobs in the construction industry and continue to be offered annually.

To assist regional plumbing apprentices in their apprenticeship curriculum completion, Gallatin College also delivered a Math for Plumbers course in Spring 2022, providing an in-person, timely, and accessible alternative to distance correspondence learning. More courses are in the works!

In March 2022, Gallatin College once again hosted Montana FCCLA's ProStart event, a culinary competition for high school students from across the state. Six teams consisting of two to five students participated in the hopes of earning top marks for knife skills, taste, presentation, team work and more.

Armed with a previously designed three-course menu and two butane burners, competitors were charged with preparing two identical meals in one hour or less.

In addition to providing cooking facilities and station set-up, Gallatin College culinary arts students, staff and faculty served as competition timers, tasting judges, and skills evaluators.

Multiple outreach efforts occurred over the past year to encourage female student interest in technology fields, where few are traditionally employed, but where their knowledge and skills are highly needed!

In July of 2021, the college's IT and Photonics and Laser Technology program directors provided hands-on computer system and light diffraction demonstrations to 15 middle schoolers at Thrive's Girls Stories Girls Voices summer camp.

With a focus on female community members age 16+, Gallatin College hosted a 3-day summer workshop in June 2022 to encouraging participants to learn about and expand their interest in fields like Photonics, IT, and Drafting. Check out and share our Women in Technology video.
A Look at Gallatin College Students

*as of Fall 2022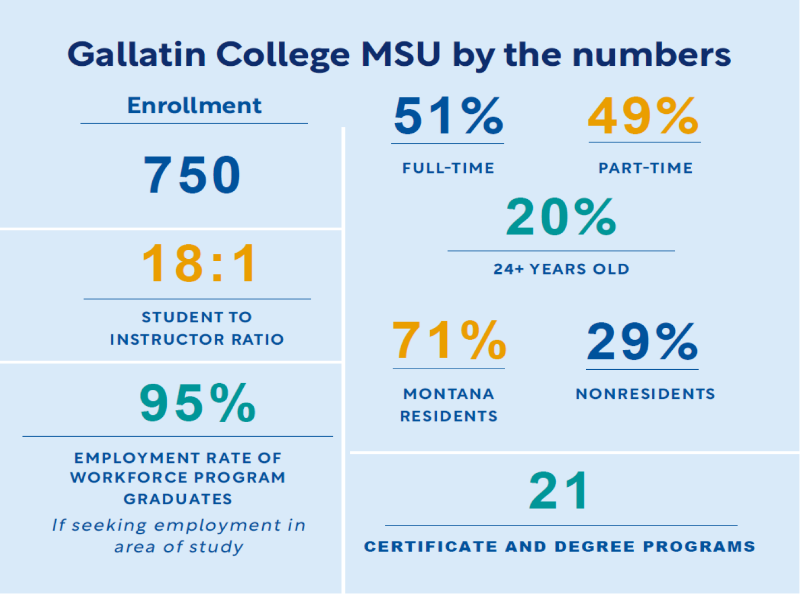 Preparing for College
Dual Enrollment and Early College Pathways

Developmental Education Growth

Throughout the 2021-2022 academic year, Gallatin College served 646 regional high school and home school students through Dual Enrollment and Early College course offerings, allowing students to concurrently earn both high school and college credit or earn college credit before graduation.
With a focus on developing Career and Technical Education (CTE) pathways from high school to technical higher education, 11 new CTE courses were created for the 2021-2022 academic year. Students enrolled in these courses will be able to apply their free or reduced-cost credits toward an existing Gallatin College program.
Gallatin College collaborated with Three Forks High School in Spring 2021, making them our newest Dual Enrollment high school partner!

With MSU and Gallatin College enrollment growth, Developmental Education courses in Math and Writing continue to be in high demand! During the 2021-2022 school year, Gallatin College developmental education instructors served 1,891 MSU and Gallatin College students to prepare them for college-level courses.
Gallatin College instructors are truly dedicated!

Kyndra Campbell, Developmental Humanities Department Chair, won the Spring 2022 Excellence in Open Education Award for spearheading online course offerings and reducing barriers to education by using open information and resources in the classroom, thus reducing or eliminating student textbook costs.

In April 2022, Katie Ivester, Math Instructor (now Developmental Math Department Chair), received MSU's Pure Gold awardfor her dedication to students inside and outside of class to encourage them to take ownership of their education.
Help Shape the Future of Gallatin College Students!
Instruct

Gallatin College instructors make our mission of service to the community a reality! Most instructors are currently employed in their industry and teach just one or two classes. Search positions or contact us to learn more.

Support

Giving Day 2023 is scheduled for February 15-16. This year, Gallatin College will raise money to provide transportation stipends for student transportation to classes. Until we have a building of our own, students must travel to one or more of our seven locations throughout the valley which can become burdensome for those without a car or extra gas money.

Donate

Please consider funding a student's tuition and/or program learning opportunities. Scholarship and/or in-kind teaching materials and equipment donations allow our students to complete their program of study and experience hands-on learning to prepare them for real-world workplace environments.
Keep in Touch
For the latest news, follow Gallatin College at: